Under Cabinet Lighting for Your Kitchen
Lights installed underneath cabinets have become a significant trend, increasingly seen in kitchens worldwide. Almost always considered a must-have feature for stylish homes, these lights offer a modern and sleek appearance while effectively illuminating the surrounding area and your workspace. However, like any other choice, there are numerous options to consider. If you're new to selecting under-cabinet lighting, the guide below can help.
What is Under Cabinet Lighting?
Under-cabinet lighting, as the name suggests, is a type of lighting that is installed underneath or inside cabinets, typically in the kitchen. It has gained significant popularity recently due to its functional advantages. Providing bright and focused light, it is perfect for task lighting purposes. Many people also utilize this type of lighting in their bathrooms, placing it under cupboards or cabinets for added convenience.
Types of Under Cabinet Lighting
Light Bars
Light bars, or rope lights, are small LED lights placed in a narrow plastic tube. They make them discreet and easy to install. As the lighting is not as strong as the rest of the under-cabinet lighting, the light bar for the kitchen will always be a good addition.
Puck Lights
Round under-cabinet lights, or puck lights, are small, neat lights that provide bright light downwards. As they are tale within the cabinets, they are far less distracting. Some people go a step further and purchase lights with infrared sensors, making them active the moment you open a cabinet door.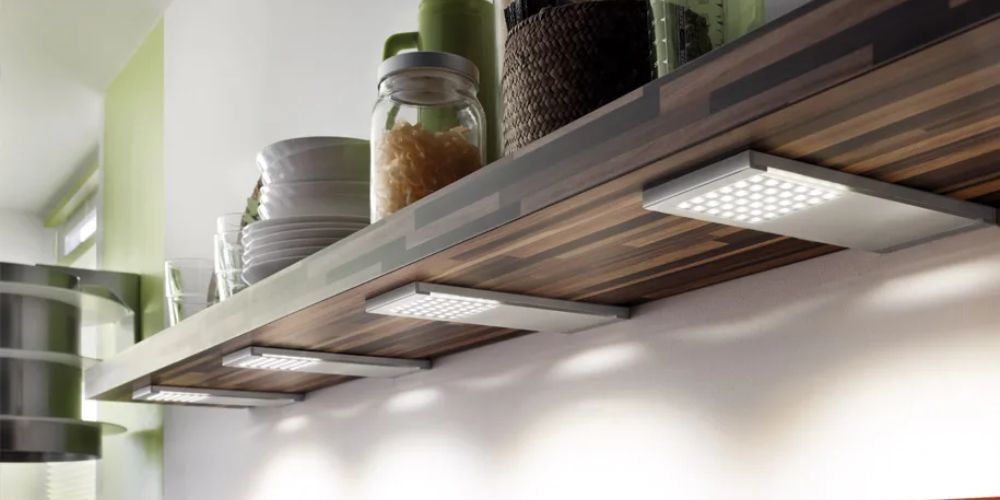 Tape Lights
Tape lights, known as strip lights, provide a slim, long, sophisticated lighting style. As the individual lights are set in a strip formation, their continuous light stream turns into a perfect kitchen cabinet light. You can also go a step further and position them in dark interior corners so you can change the ambiance.
What Type of Under Cabinet Lighting is Best for you
Placement and Available Space
Once you have made the final decision on how the cabinet lighting should look, it is time to think about where you want it installed. And while various options, the design, and shape of the cabinets (or kitchen) where the lights are installed will impact this.
One of the most common places cabinet lighting is installed is in consumer areas. It makes sense that the more time you spend in one area of your home, the more you will like extra lighting. It is especially true above countertops or sinks. Many families who are just designing their kitchen tend to include puck lights within kitchen cabinets so they can find items more easily.
And there is another group of people who love their kitchen island as a focal point. Illuminating the whole design and showcasing this area because it depicts the center of the house. In this case, it is the kitchen's main workspace or dining area.
Power Options
Power options also play a little bit of a role when it comes to installing LED lighting. Some of them have a power cord, so they are close to a standard socket (turning them on and off afterwards is effortless). There is also the option to utilize a light switch, but you need bright enough lights to be wired to the wall or attached to a driver purchased separately.
Safety Considerations
And while under-cabinet lighting is popular due to its bright and focused light, it is also safe and energy efficient. With its long-lasting quality and energy efficiency, it is perfect for using it in hard-to-reach places. And because the energy within the LED lights is converted into light and not heat, it is also safe against wooden surfaces and countertops.
Enhance Your Home's Aesthetics
Kitchen cabinet lights are excellent for task lighting, as well as for creating ambiance and adding character and charm to your kitchen's design. When installed properly, not only do they modernize your home, but they also create a glamorous and sophisticated look that instantly upgrades this area. With the saturation of products in today's market, all you have to do is make a little effort to find what you truly love.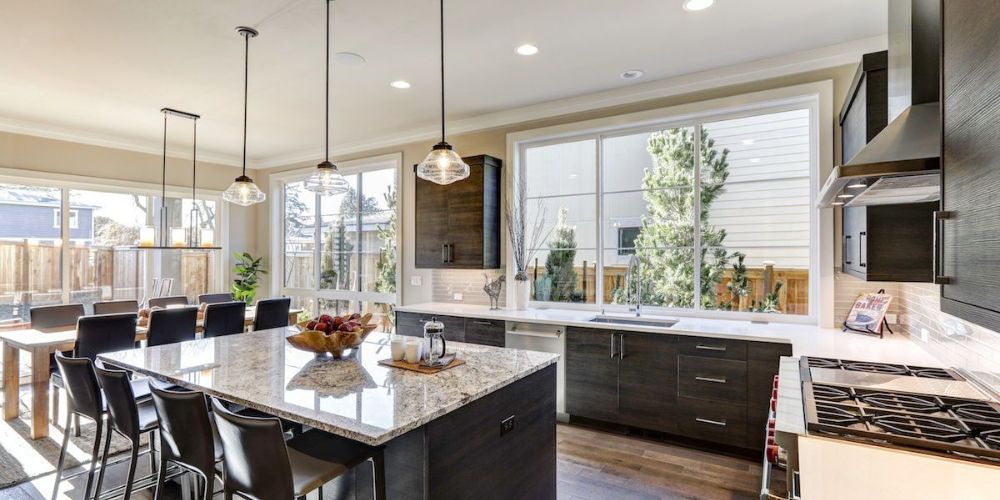 Conclusion
Under-cabinet lighting adds great style to any kitchen. With glamorous lighting, it brings charm, elegance, and character to the space. It has a clean look and is highly functional as task lighting. Under-cabinet lighting is also energy-efficient. It can be installed in various positions, eliminating the need for new fixtures, materials, or additional installation costs. Simply decide on your preferred type, and you're already halfway there. And don't forget to consult a professional for additional guidance on placement, installation, and safety.
Experience the difference with Blue Ribbon Electrical! Contact Us Today for a Free Consultation and Let Our Experts Help You Pick the Right Under Cabinet Lighting for Your Kitchen. Illuminate Your Space with Confidence and Trust Blue Ribbon Electrical for all residential, industrial, and Commercial Electrical Needs. Transform Your Kitchen Today! Choose the Perfect Under Cabinet Lighting with Our Expert Electrical Services.