Difference Between a Residential and Commercial Electrician
You might wonder if all electrical contractors carry the same license and undergo the same training. Such is not the case with residential and commercial electricians. While some aspects of their daily duties parallel each other, many differ. Here's more information to help you to understand the differences between these two types of electricians.
Residential Electrician
Resident electricians work on homes, apartments, condos, and any place that falls under the residential category. Electricians can repair wiring or install new electrical systems. They can also inspect electrical work completed in a house or during new construction. Likewise, you can install new light fixtures, switches, and other electrical components, and they must possess knowledge of and adhere to general home electrical requirements and national and local safety regulations.
Commercial Electrician
A commercial electrician works in places of business, schools, restaurants, and hospitals. And they can install and inspect wiring systems in new constructions. In addition to performing repairs, wiring, and circuit replacement, they can design and create a project schedule. Other installations specialize in include alarm systems, transformers, heating systems, and generators. Like their residential counterparts, they must stay updated and follow industry standards and federal, provincial, and local safety codes.
Difference Between Residential and Commercial Electricians
Training And Education
Also, both types of electrical contractors need to have a high school diploma or GED to enter a training or apprenticeship program through a vocational or technical school. However, residential electricians may earn a different certification and specialization than commercial electricians. Of course, this depends on what specific fields each one goes into. For instance, residential electricians might get certified for low-voltage work and installation of alternative energy sources. Conversely, commercial electricians may require a special certificate in fire and life safety systems or data communications.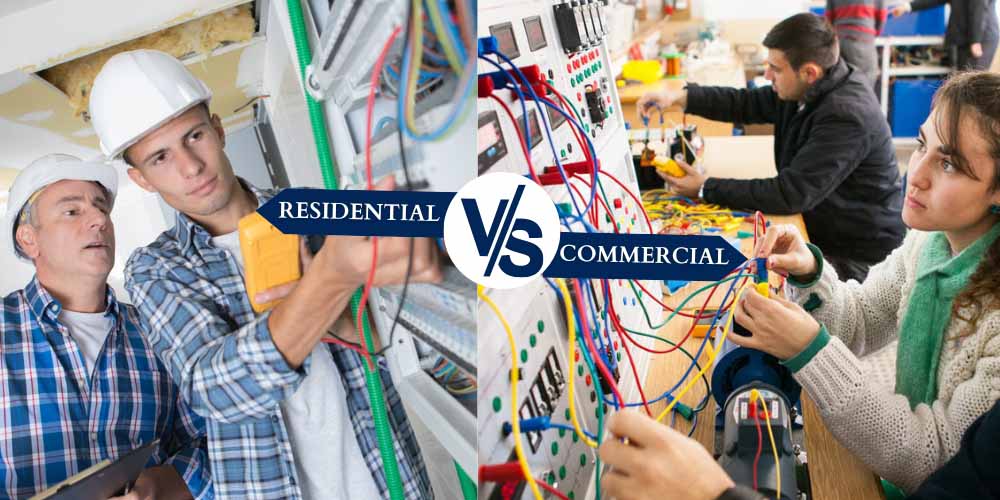 Working Conditions
Likewise, the working conditions differ somewhat between residential and commercial electricians. While residential electricians might have a set weekday schedule (unless they offer emergency services), commercial electricians are usually on call and have to work overtime and on weekends so as not to disrupt their clients' business operations. Sometimes, commercial electricians have to work outdoors in all weather conditions on upper levels of buildings or basements.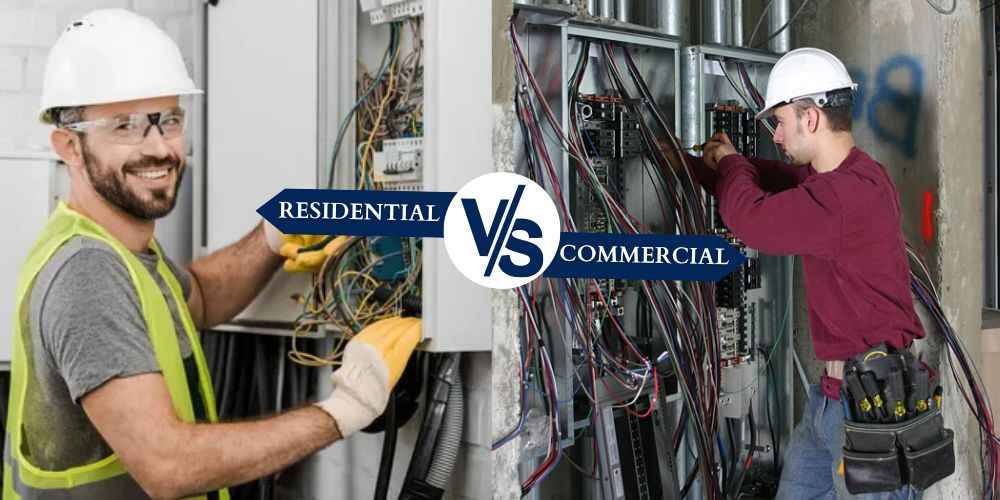 Tools And Equipment
Because of the complexity of the repairs and installations, commercial electricians might work with more specialized equipment and tools since they deal with conductors. Residential electricians, conversely, carry the standard-size tools and types of equipment suited for working on single-phase systems. In addition to different tools, commercial electricians have larger cables with thicker insulation and sheathing while residential contractors have smaller cables with less insulation.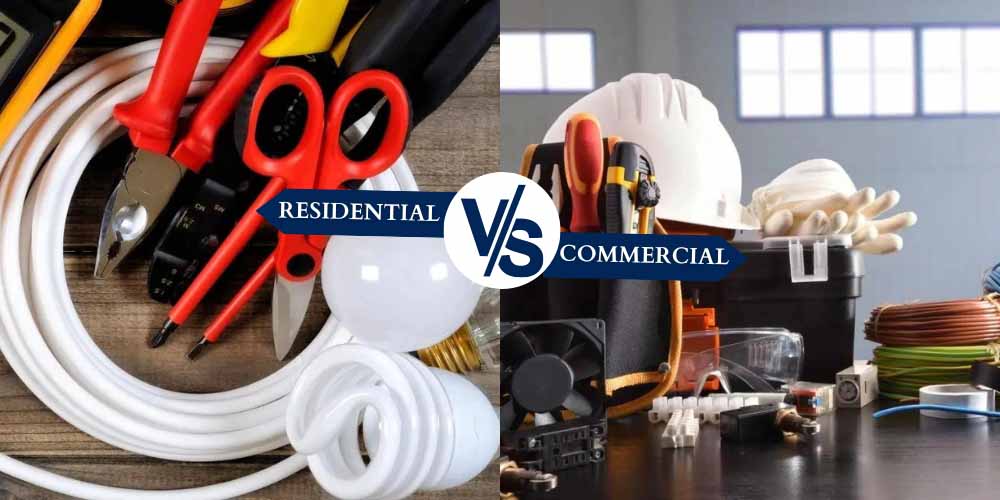 Safety and Regulations
To some extent, residential and commercial electrical contractors have similar regulations and codes to follow. The Canadian Centre for Occupational Health and Safety Canadian Standards Association's Canadian Electrical Code Part 1 outlines safety regulations. Additionally, electricians adhere to their provincial and local safety codes.
Conclusion
Now you know the differences between the residential and commercial electricians–and which one to call which type of job. Their training and licenses differ slightly. Their work conditions and equipment are unique to their respective fields. Nonetheless, electricians offer the best choice for electrical projects instead of DIY. Luckily, you have a one-stop shop for residential and commercial projects–Blue Ribbon. We provide services for your home or business and IT electrical projects. Call us today for a free quote and consultation.